April Fool's Day has moved online for 2014
April Fool's Day has moved online for 2014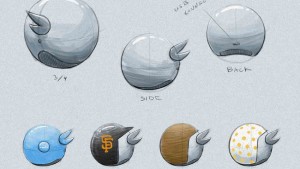 It is coming around every year and you are never sure whether it gets you or not. Fortunately, we at OSD were spared this year. The digital world however tried to sell us a few strange looking items. Here is a little summary of the weird and wonderful.
Twitter Helmet
Twitter announced the arrival of the Twitter Helmet a "a sophisticated, fully immersive, staggeringly high-resolution wearable device". Think Google Glass meets Motorbike helmet and you get the idea. But don't be fooled, it is not any old helmet! Peck your head like, say a chicken and you are actually tweeting.
Drawings and apparent undercover videos haven been "leaked" for the digital user to get a sneak peek of the 2014 fashion item being test-worn by twitter employees.
Shelfies
"Shelfies", the shareable selfies. The idea behind it simple: don't be selfish with your selfie. You have the option of setting your selfie as a
Gmail Custom Theme in order to either share it with your friends or look at yourself a little more. Oh, and as you can share it, you can also check out who's the highest ranking of them all. Check yourself out
Emoji
And Chrome created the next step for linguistic evolution. Emoji translates the entire internet – URLs, eCommerce, medical journals, legal documents and even subtitles are all emojified. The Emoji-wave didn't even stop from taking over coding. The list is endless, who needs words when you can have Emoji?
Audisonic Personalisation Programme
And now finally, probably one that would be the most interesting in the real world. It is taking visual personalisation of your car one step further. With Peugeot's very own Audisonic Personalisation Programme you can choose the sound of your car horn. Upload from either their database or upload from your own playlist. The options are endless….
We are looking forward to next year's newest inventions / pranks.
The post April Fool's Day has moved online for 2014 appeared first on OSD Digital Agency Ireland.
April Fool's Day has moved online for 2014
Source: OSD eMarketing
You can share this story by using your social accounts: