Set Sail with Doolin2Aran Ferries
Set Sail with Doolin2Aran Ferries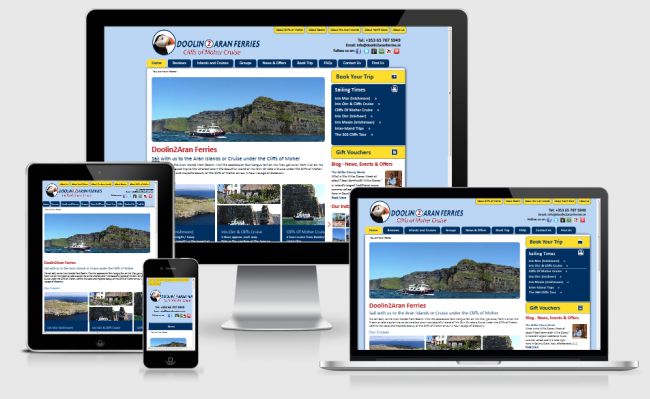 Set Sail with Doolin2Aran Ferries to the Aran Islands or Cruise under the Cliffs of Moher, Co.Clare
Doolin2Aran Ferries is a Family run business, owned and operated by four brothers, PJ, Eugene, Joe and Donie Garrihy.
PJ was a fisherman out of Doolin for over 30 years. He saw an untapped opportunity providing visitors with a view from the sea to the majestic Cliffs of Moher. And so a business was born.
In 2005 Doolin2Aran Ferries extended the business sailing to Inis Oirr, then in 2009 they added another purpose-built ship expanding their ferry service to all three Aran Islands as well as the ever popular Cliffs of Moher.
Doolin2Aran Ferries set sail daily to the Aran Islands from Doolin. Visit the spectacular Dún Aengus fort on Inis Mor, get away from it all on Inis Meain or take a quick trip to the beautiful island of Inis Oirr. Or admire the beauty of the Cliffs of Moher on their voyage of discovery.
The Challenge
OSD Digital Agency were contacted to redesign the Doolin2Aran Ferries Website, the client wanted a user friendly website, with a visually engaging design that would allow for more interaction from their visitors.
The goal was also to move to a WordPress CMS system so they could easily keep the site regularly updated.
The Solution
OSD redesigned the Doolin2Aran Ferries website with a responsive design to fit all device sizes. Key to the new design was to ensure that the online Booking and Gift Vouchers facility was integrated and easy to navigate to.
Other features include a visual magazine style News section, integrated social media feeds and channels all to allow visitors to engage with Doolin2Aran Ferries online easily.
Doolin2Aran Ferries on a Desktop, Laptop, Tablet and Smart Phone
The post Set Sail with Doolin2Aran Ferries appeared first on OSD Digital Agency Ireland.
Set Sail with Doolin2Aran Ferries
Source: OSD Digital Marketing
You can share this story by using your social accounts: